Our Products
Pack Basket Collections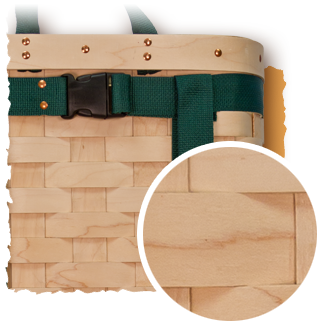 Classic Collection
A traditional weave for a sturdy, sleek look
Each of the baskets in our Classic Collection offers sturdy support for your active lifestyle. Inspired by the timeless style of a traditional pack basket, our baskets are woven with 1-inch strips of authentic Maine maple. In the comfort of our workshop, we handcraft each basket to order! Beautiful and functional, any one of these Classic Collection baskets would make a stellar addition to your active lifestyle. From picnics to ice or fly fishing trips, the versatility and storage capability of these baskets will meet your every need. The solid sides and adjustable straps make our baskets more comfortable than regular soft-sided packs; and they are ideal for carrying odd-shaped or breakable objects. No outdoor adventure is complete without a real, Maine pack basket!
---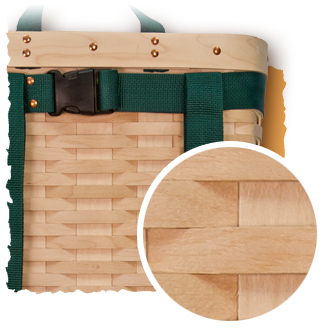 Signature Collection
A tight, intricate weave to support your adventurous life
If you're serious about exploring the outdoors, you need a serious pack basket. Handmade with unwavering attention to detail, this line is expertly woven with a tighter more intricate style. Our Signature Collection is the adventurer's perfect companion. Reminiscent of an ash basket, these pieces are constructed to perfection. The thinner bands of unique 1/2 and 3/4-inch weaves make for durability and flexibility for even your most intense excursions. Adjustable straps, hard sides, and a more resilient weave make this collection of baskets ideal for endurance. Forge rivers, hike trails, and all the while remain confident of the integrity and strength of your Signature pack basket. Inspired by the outdoors. Built for you.
---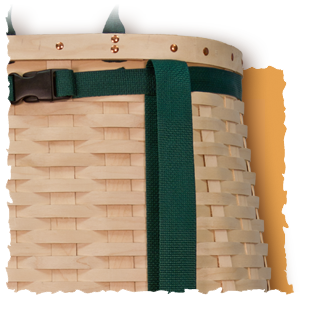 Legacy Collection
Unique pieces with timeless style
Both of our legacy pieces take a page from Maine history and deliver it to you with skillful precision. Woven with meticulous care, these baskets are produced the Yankee way – by hand. The Belly Basket and Guide Picnic Basket, while both traditional in style, are brought up to date with high quality materials and flawless construction. Maine maple provides a sleek and solid finish. Don't venture into the great outdoors without your very own authentic pack basket!